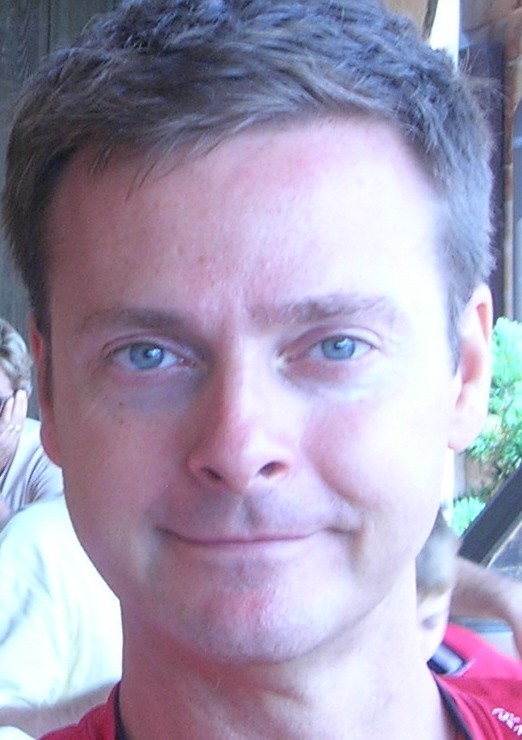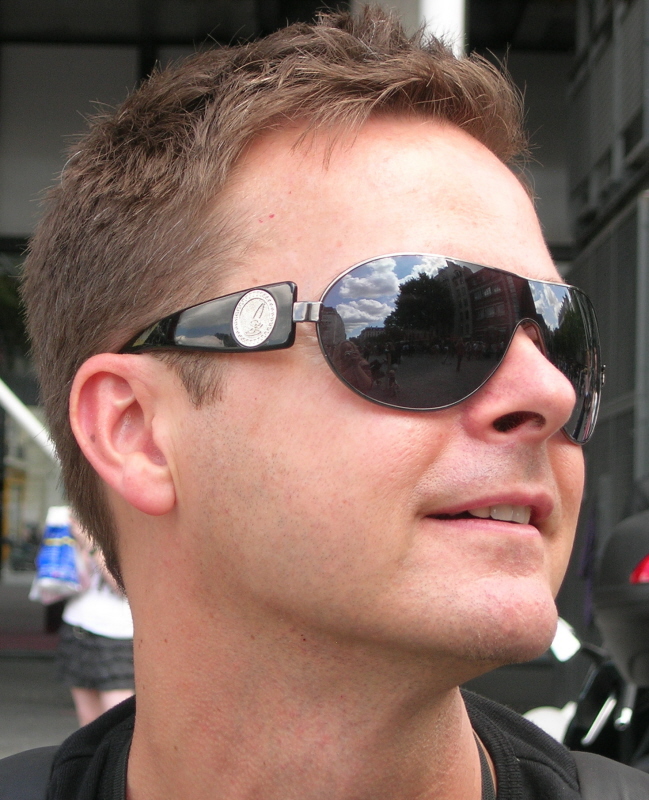 what is your name?
Christopher Dirk Allen. Some very old friends call me "Peesh," which is a corruption of a Neapolitan word that means "little fish."

how would you describe what you do?
Extremely messy at first, then increasingly more deliberate and brooding. In the end, I'm never done fiddling.

what are you currently working on?
Since I'm never finished, this answer could drag on a bit. Grab something to eat. My main projects right now are a novel-length manuscript called The Family of Rod, a dark comedy about sexual abuse in the Bible Belt (should be a knee-slapper); a BEFL coursebook called International Business Idioms: an advanced course for learners of business English; and an episodic adult cartoon called Conversations with my Gayru, a trainwreck between a guy who thinks he knows everything and a guy who thinks he knows nothing. I also write travel humor, so I'm constantly updating my travel(b)logue. And then I'm submitting short stories and flash fiction to every market on the planet.
what has had the greatest influence on your work?
I've answered this question before in a public forum, so I need to stay true to my answer: Homer Simpson. Then, after Homer, come all the writers in my library—the great, the good, the bad and the awful. If I told you who they are, you'd know what I stole from them. So I'll just stick to Homer. OK, Bill Bryson and Jincy Willett.

what is the greatest misconception about you or your work?
That I am a writer with a single voice or goal or vision or haircut. I like to keep 'em guessing. I often write about religion and sexuality, so readers are quick to interpret what I'm trying to do through their own belief system. Sometimes they're shocked.

what do you see as the main strengths and weaknesses of the medium you work in?
A retired acquisitions editor from Random House once asked me, "Why are you writing a novel for gay men? Gay men don't read." Then, other writing comrades asked me, "Chris, why don't you write something shorter? You know people don't read novels anymore. Flash fiction, man!" The strength of a novel is that, compared to your typical flash fiction story, it hurts much more when you hurl it at someone; the weakness is that you'll have to throw the novel at someone to get him to buy it—so hand-eye coordination is important.
how has technology impacted upon the work you do?
I type much faster than I think. That's not saying much, I know. Often, however, I'll uncouple myself from my computer and write with a pen on stuff called "paper." The internet has given me, alongwith constant pain in my shoulders, elbows and wrists, the pleasure of connecting with other writers. I live in Germany where sitting down with ten other English-language novelists is highly unlikely.

what's the greatest piece of advice you would like to pass on?
If you're a writer, get involved in a workshop (there are lots of good and bad ones on the internet). Find well-meaning, wonderful people who'll give you honest feedback. Then, write 24 hours a day for the rest of your life. Oh, and make sure you're getting enough potassium. We rarely get enough potassium.

where can we find you online?
I write about my travels at www.imustbeoff.blogspot.com. There you can find links to my published work. I'm also on facebook and twitter, but I'm too stupid to figure out my own addresses. Look for my name in Munich, Germany or London.

what are you reading at the moment?
The White Tiger (Aravind Adiga), House of Meetings (Martin Amis), Indignation (Philip Roth)

what are you listening to at the moment?
Nothing…but if Lady Gaga comes on the radio, I turn her up. Wait, I just listened to Maroon 5 and Keane so that I could answer this question truthfully.

anything else we should know?
You should know your own name and your address in case you get separated from your parents.