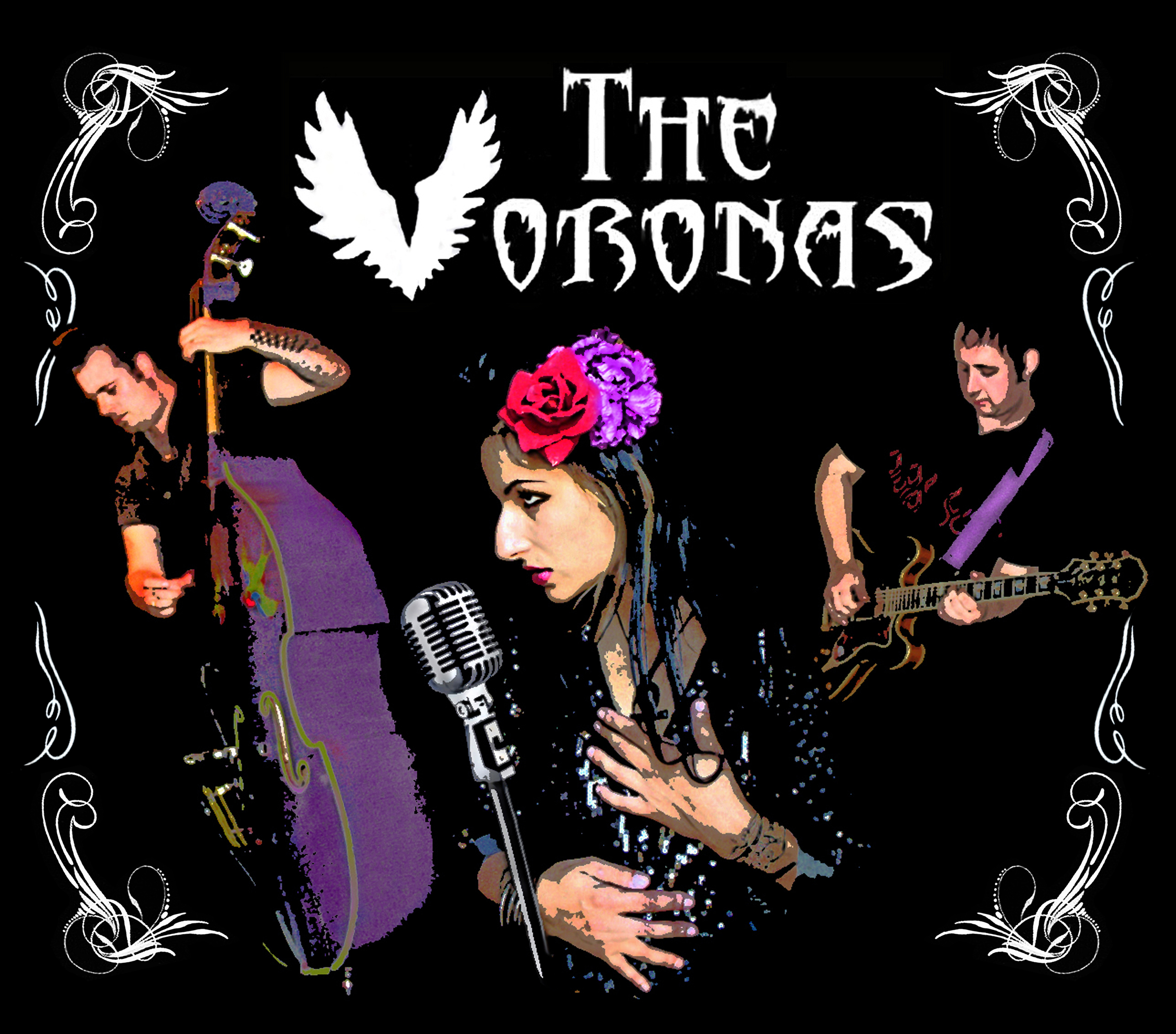 what is your name?
The Voronas
how would you describe what you do?
We are 4 folk, each come to this band from varying musical backgrounds to try a hand at something rock 'n' roll and raucous.
The Voronas are all about reckless abandon, bohemian hedonism, unapologetic disgrace and songs with monsters, hot men and wild animals. Fusing gypsy-esque riffs with rockabilly, jazz, swing and anything else they care to sling into the pot.
what are you currently working on?
Just sorting out recording our newer batch of written songs in a studio. Ideally we wanna re-record our first rudimentary demos from last year too, as they really don't capture how we are live & the tech level of the recording back then failed 2 show the music's energy.
what has had the greatest influence on your work?
Can't speak for all the other members of The Voronas, but as the frontperson and lyric writer I can say I've been inspired by imagery of timeless iconic rock 'n' roll, eastern block gypsy kitsch, mexicana, horror movies of past eras, swingin' jazz, hedonism in literature, the darker side of lust and the psyche…
what is the greatest misconception about you or your work?
I'm not sure we're known enough yet to generate much misconception per say, but people do get the name wrong, believing it's The Veronas, as in 'In fair Verona, where we lay our scene…' from Romeo & Juliet. But it's in fact the slavic word for Crow (as in the bird). Also that we're a straight Psychobilly or Rockabilly band. Those 'genre' terms are too restrictive.
what do you see as the main strengths and weaknesses of the medium you work in?
A few years back in previous bands the songs and sound were the only thing I concentrated on, as I believed the aural side was the most important and image was less so. Now in The Voronas we aim to deliver the whole package – with a definite look / image and fun visual presentation, as well as original songs and show-off playing & onstage antics. It seemed more fitting this time around to be a show of many mediums. We also have designed our logos, colourschemes, costumes for the shows and merchandise.
how has technology impacted upon the work you do?
There's no getting away from needing to know how to work computer or hard disk multitrack recording devices now a days if you're in a band. I was lucky enough to get a degree in music tech, which has really helped knowing what will and won't work recording-wise. Money constraints usually means when the equipment is lacking you have to get inventive, beg borrow and steal LoL. With a multipiece drum kit and double bass in the band though, both costly to maintain, transport and not possible to 'wing' a naff recording, however that just pushes you to do well as best you can.
what's the greatest piece of advice you would like to pass on?
Not sure. On the one hand I'd say listen to your audience and take on board some of their suggestions, as it's bode well for The Voronas. People have said they wanted more songs in other languages, more fun onstage visually etc. We listened and it really helped propel us. On the other hand I'd say never apologise for who and how you are as a music act or water down your beliefs. I've not been much help there, have I LoL.
where can we find you online?
www.myspace.com/thevoronas, we are the only Voronas when you search on YouTube. We do have a .com site pending… been getting all the bits together slowly!
what are you reading at the moment?
Just a few pages into 'The Infernal Desire Machines of Doctor Hoffman' by Angela Carter (a favourite author of mine, along with Bulgakov) and been reading a biography of Frida Kahlo, who is a hero of mine.
what are you listening to at the moment?
That changes monthly as I accumulate music! At the moment still in love with Sergey Shnurov and Leningrad, Hot Boogie Chillun, Michaelangelo & The Black Sea Gentlemen, Karl Hlamkin, The Memphis Mortitians… Recoil's 'Liquid' album cuz it's got our lady Diamanda galas on it, always Tom Waits, always Link Wray, anything James George Thirwell puts his hands to…
anything else we should know?
The only way to know more is to keep being curious, never stop exploring no matter how scary what lies behind the door might appear.