What is your name?
Sue Graef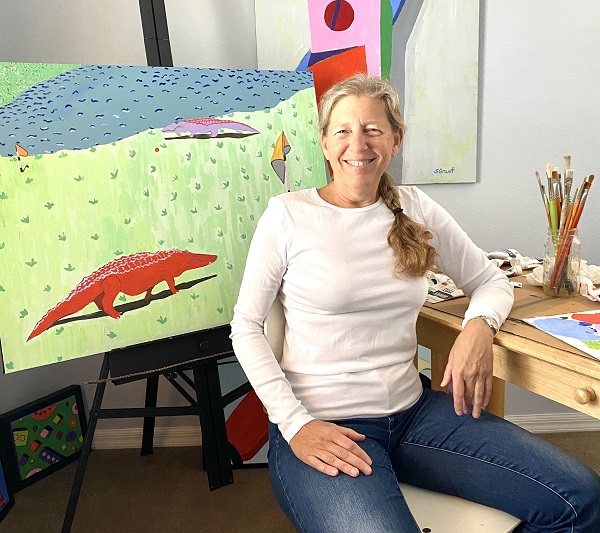 how would you describe what you do?
I'm an artist, painter, re-creating what I see in life, injecting color, my rules, no boundaries. Bright acrylic color on canvas, bold shapes and exciting compositions take an ordinary everyday animal, object or place and bring it to life.
what are you working on currently?
Currently I'm working on a 30"x40" painting of a corkscrew. I just finished a large painting of my can opener.
what has had the greatest influence on your work?
I'd say the greatest influence on my work was my mother's encouragement.  From the time I could hold a crayon, paintbrush or pencil my mother provided all the materials an artist could dream of.  She gave me assignments.  For example: Paint an imaginary animal or draw a completely made up castle or go out in the garden and draw the flowers.
what is the greatest misconception about you or your art?
There's a misconception that my work must be based off some other artist's paintings or have some deeper meaning.  There's nothing like that.  I paint what excites me at the moment and I paint it until I'm more excited about something else.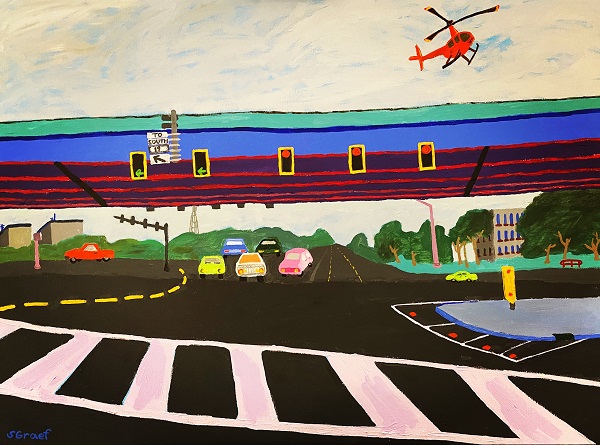 what do you see as the main strengths and weaknesses of the medium you work in?
I work with acrylic paint on stretched canvas.  The strengths are: brilliant colors available, dries fast and easy to purchase.  The weaknesses are: The accumulation of years of paintings to store, to paint very large works I need a much larger studio, logistical challenges to transport the work sometimes.
how has technology impacted upon the work you do?
Technology has had some impact but mainly to enhance my ability to get my paintings seen by lots of people via the internet.  It has had very little influence if any on the actual creative process. Although I did do some paintings of circuit boards/motherboards. LOL.
what's the greatest piece of advice you would like to pass on?
My advice to other artists is: Keep creating. Get the necessary training to master the craftsman/skill side of it.  Don't copy other people; create from your own viewpoint and imagination. For other painters, I say, learn to draw, sweat it out and draw the human figure, draw anything and everything you see and don't use cheap shortcuts like painting over photos or projecting images on the canvas.  LEARN TO DRAW! That's what makes the artwork real and individual to each artist.
You can find me in all kinds of places online:
https://www.singulart.com/en/artist/sue-graef-12789
https://www.saatchiart.com/suegraef
https://www.instagram.com/suegraefineart/
what are you reading at the moment?
I'm actually reading the transcript and listening to a recorded lecture series of L. Ron Hubbard.
what are you listening to at the moment?
Not listening to much of anything. Just the sound of my typing this. 
anything else we should know?
Art is my passion…what get's me up in the morning.