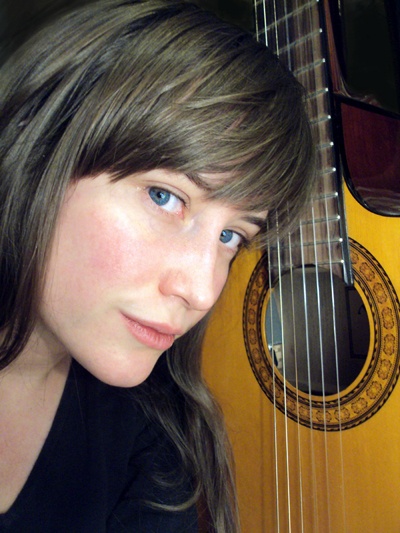 what is your name?
My name is Fredrika Markstedt, but my "artist name" is Karin Fredrika. Karin is my middle name.
how would you describe what you do?
I write songs and have been for a few years. The reason that I started playing the guitar is that I wanted to accompany myself
while I was singing. After a few years i got bored with other people's songs so I tried to write my own.
Most of the songs I've written are based on my own experiences, and are composed while I'm very upset. Writing is my therapy.
I don't perform live, at least I haven't for a long time. I see the songs as mainly for my own enjoyment. At least for now.

what are you currently working on?
I'm currently working on an old song that's been bugging me for a long time because I haven't been able to finish
it properly.
what has had the greatest influence on your work?
The greatest influence that I've had is to be utterly, unhappily in love and feeling terrible. But I can also be
touched by movies, books and other people's creations.
what is the greatest misconception about you or your work?
Most musicians in the world have to have other jobs. People might think that you just can do a couple of gigs a
week and that's what pays the rent. But most musicians never get to be big, even though they might be fantastic at
what they do. But for many of these creators that's okay. Music is my hobby and it makes me feel great. Sometimes
that's enough, depending on how big your ego is. (Some days it's bigger…)

what do you see as the main strengths and weaknesses of the medium you work in?
Hard question since I don't work with music. I'm really a mailman, it would be a long list of weaknesses if I were to describe my real work.

how has technology impacted upon the work you do?
I got an external sound card for Christmas which really is my biggest problem And asset at the moment. I don't
quite know how to work it yet. But when I do I hope I will produce some songs again.
I have a very short temper with technology. As soon as something doesn't work the way I want it to I go crazy. And if I'm in any way disturbed while I'm trying to write a song it's all spoiled.

what's the greatest piece of advice you would like to pass on?
I think I'm the one who needs the advice.

where can we find you online?
www.youtube.com/user/KarinFredrika
www.myspace.com/fredrikakarin

what are you reading at the moment?
I'm reading "Hanteringen av odöda" by John Ajvide Lindqvist. The title can be translated "Handling The Undead".

what are you listening to at the moment?
Also a hard question. The last thing I listened to today was Nick Cave and the Bad Seeds. But I really wanted to Listen to Nick Drake, but he was missing from my CD collection. He was supposed to be next to Nick Cave.

anything else we should know?
I haven't uploaded anything for over a year now. There are many reasons for that. But if you're interested in my music you shouldn't be let down because I will be back.