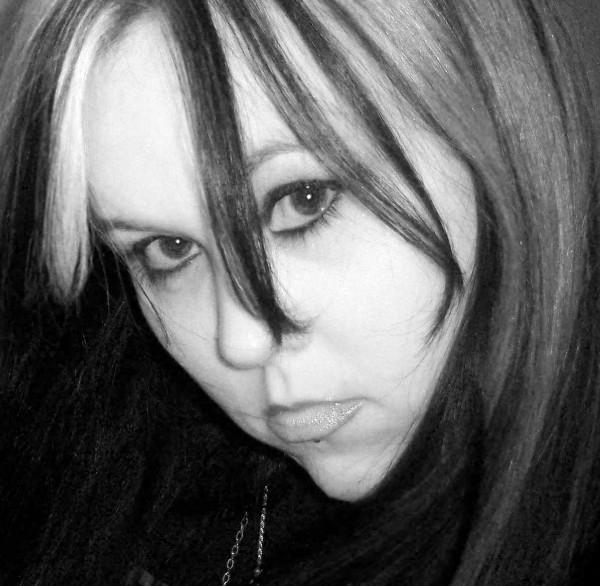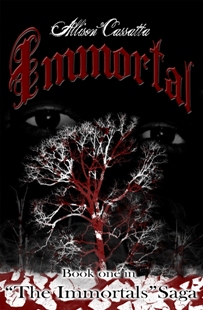 what is your name?
Allison Cassatta
how would you describe what you do?
I'm a jack of many trades (as conceited as that sounds.) During the day, I am a network engineer, geek to the n-th degree. At night, I like to travel into the depths of my mind to worlds unseen . . . I create. Whether it be a short story, a new novel, a poem, as song, or a work of visual art . . . I simply create. That is, unless my brain has taken an early vacation, then I hang out with my friends, playing Rockband or watching movies. When I am not doing all of that, I photograph.
what are you currently working on?
I actually have two books from different series that I am writing right now. I am working on the second installation in "The Immortals Saga," tentatively named "Dhamphir." The other book is a new murder/mystery series. It's about a woman who is one her first case as a new detective and the case is, for all intents and purposes, cold. Anyway, she's learning the ropes and gets herself mixed up in some things that doesn't necessarily help her case or help her win popularity with the higher-ups, but she's determined and in the long run things work out for her.
what has had the greatest influence on your work?
Honestly, dreams. I dream in Technicolor . . . I swear. I get bits and pieces from my dreams and develop those stories into something entertaining. Music is another great inspiration. I've been surrounded by music my entire life and now, when I write, I have to have music playing. Whatever music suits the mood of the scene.
As far as the vampire books go, I have been into vampires since my pre-teens. It started with "Fright Night." The scene in the club where Jerry Dandridge is bespelling the girlfriend did it for me, and grew from there. I read Anne Rice's "Interview with a Vampire" shortly thereafter and it spiraled from there.
The murder/mystery was more inspired by my interest in forensics and my morbid fascination with death. And no, I am not deranged or sociopathic.
what is the greatest misconception about you or your work?
That my current book is JUST like Twilight. I absolutely hate that. My book is actually nothing like Twilight. Those who have read it can attest to that. A few girls said things like, "I haven't read Twilight and haven't read your book, but it sounds like Twilight." I can't make an argument for that. It appears that the use of black and red on the cover will make it SOUND like any other book that has the  same color scheme. And yes, that was lifted from a quote. A mortal girl falls in love with a vampire . . . that is the extent of the similarities; which by the way, isn't a new concept. My book has the sex, the violence, the love and the loss, that you don't get in the young adult vampire books. Now, before anyone takes what I say the wrong way, I read Twilight and it was adorable . . . the end. The young adult vampire books are cute, but I am not a young adult. It seems as though the literary world has forgotten about the adults who love to read. Thanks to authors like Laurell K. Hamilton, J.R. Ward, Anne Rice, James Gillen, Allan Gilbreath, and Charlaine Harris, we have those not so innocent vampire stories to keep us warm at night.
what do you see as the main strengths and weaknesses of the medium you work in?
Wow, this question actually made me sigh. There are so many. I think that the main weakness is that people don't like taking a risk. Publishers don't want to print new talent because they fear financial loss. People don't want to try out new authors because books aren't cheap and there's nothing worse than dropping $10 or $15 on a book that frankly sucks. That's what makes websites like Worthy of Publishing such a great medium for people like me. My own mind can play as both strength and weakness.
I guess if I didn't have everyday life to concern myself with I could let my mind roam and just write, but I don't have that luxury. So, sometimes when I sit down to write, words become my enemy and I just can't do it and the outcome ends up being something that sounds forced and obviously contrived. I hate when that happens.
how has technology impacted upon the work you do?
I recently had a chance to have an email conversation with Anne Rice and I asked her how she became such a big name (besides her obviously talent for beautiful writing.) She told me that it took 14 years . . . FOURTEEN YEARS!! She said the Vampire Chronicles were considered a flop when they first came out. I was flabbergasted. She said word of mouth and the release of Queen of the Damned put her on the best-sellers list. There is a point to this rant, I swear. With the invention of the internet, we have tools that weren't available to her. We have social networks and websites for readers. People know absolutely every aspect of our lives if we so choose. In fact, last night I posted on Facebook that I cut my hair. When I got to work this morning everyone wanted to know about my hair. Cousins and Classmates that I haven't talked to in years wanted to see my new haircut. Simply amazing. That's a huge advantage for anyone who wants to get news spread quickly. So maybe. Instead of a new author having to wait 14 years to see their work explode into stardom, now you know right away if you are loved or if you need to change your pace to make your work successful.
what's the greatest piece of advice you would like to pass on?
Enlist the help of friends and family, but get those people who will be utterly and brutally honest with you. Listen to constructive criticism and don't take it personally. Make friends and join networks. I honestly don't know that I would've ever been read by a publisher if it wasn't for my friend and fellow author James Gillen. For better or worse, he let me drop his name and I'll swear until the day that I die that's what got my work read in the first place. My best friend Jessa Murchie sat up and did last minute cram edit sessions so I could get nice, clean work back to the publisher. She told me when things we great and when they were horrible and that's the kind of friend you need. My husband, Joe Cassatta, has been understanding when I didn't have time to watch a midnight movie marathon with him or when I had to kick him off of his favorite video game so I could work. He never complains and he supports me 100%. My internet friends have been spreading the word for me and I have to thank them for taking some of that load off of me. There is no way that one person can do it all (not matter what it is) alone. The support structure of friends and family and even work is very important. Without that, I don't believe success is possible.
where can we find you online?
My official site is www.allisoncassatta.com and there you will find links to just about every social network I am on. Also, the first 3 chapters of the book are located at http://www.worthyofpublishing.com/book.asp?book_ID=1178#chapter_list
what are you reading at the moment?
I am reading the last book in the Anita Blake series by Laurell K. Hamilton. I'm torn on what I want to read after that. I'm either going to re-read the Vampire Chronicles or I'm going to re-read Death's Acre (a non-fiction book about the Body Farm at the University of Tennessee.)
what are you listening to at the moment?
Coheed and Cambria . . . Their cover of the Trooper by Iron Maiden to be exact.
anything else we should know?
Oh this is a loaded question if I've ever seen one. Hold on, let me tuck the horns back beneath my hair. I only bite when provoked and I have had my rabies shot . . . But I assume that's not what you meant. Seriously, I like meeting new people so please find me on one of those many social networks and make friends with me. I'll answer almost any question and I'll talk to almost anybody. Stalkers and serial killers are my only exceptions and I am flexible about the serial killers.