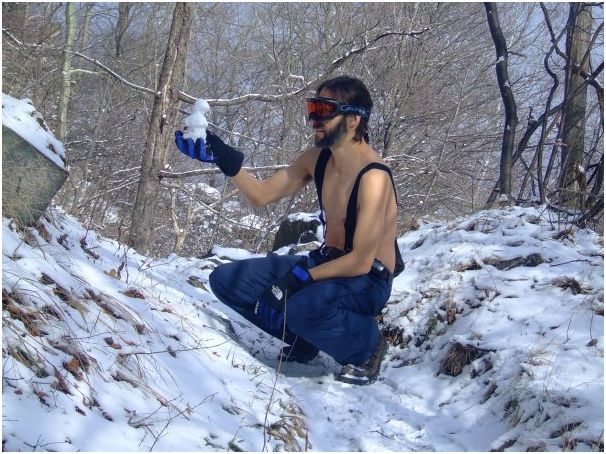 what is your name?
Ivan Stoikov – aka Allan Bard
how would you describe what you do?
Well, I could say I'm a writer, though for the present I've published only one book (Tale Of The Rock Pieces) and almost written another (The Opposite Of Magic) but have about 20 other in my head, waiting impatiently to be written too. Yet, I would definitely claim that writing books is the best activity, job, hobby, way of life one could have!!! It is probably one of the few jobs, activities that's connected with everything else one could imagine or think up… ;). For the present, writing is not my primary job, I work in a pharmaceutical company, I'm a healthy food consultant, massage therapist and I have a master's degree in biology, which really helps for some of my books.
what are you currently working on?
I'm finishing my next The Opposite Of Magic, searching for some info for the next Kids' Funny Business and The Lord Of The Christ, etc.
what has had the greatest influence on your work?
My dreams as a child, many famous authors' works as Terry Pratchett, Ursula Le Guin, Michael Crichton, J.R. R. Tolkien, J.K. Rowling, Ivan Vazov, Ivan Marinovski, Elin Pelin, Jack McDevit, Paolo Coehlo, G. Roddenberry, Victor Hugo, movies like Star Wars (especially The Empire Strikes Back), Star Trek, Masters Of Science Fiction, The Outer Limit, etc… the list goes on but it will be too boring I guess to write them all here? 😉
what is the greatest misconception about you or your work?
After reading some of my book/s, some people said I was a racist… Yet, I guess my explanations helped them realize they were wrong. Using characters like Brown faces could not be a reason to make me something that I'm not and will never be. As in the past Brown faces had fair skin but their awful nature, thoughts and actions made them ugly and dark-skinned…
what do you see as the main strengths and weaknesses of the medium you work in?
Well, I guess in all my works there are not just breath-taking adventures, incredible, unknown and never-seen-before creatures and characters, but also a lot of wisdom, philosophy and thoughts/quotes that could be used in any period of our history.
I guess greatest weakness in my works would be my English… I mean I'm not a native Englishman or American, so many times my writing needs a lot of editing, my sentences are too long, some of my expressions are with Bulgarian logic, from time to time I guess my descriptions are too long too…
how has technology impacted upon the work you do?
I admire all the modern technologies, as Terry Pratchett said: We can find much more magic in an ordinary computer than in a gathering of witches…;) Using Internet, I could find editors, proof-readers of my works, literary agents, publishers, and having a PC and laptop made writing really easy! At first I used an old type-writer but after I bought my 1st PC, I'll never use such a "trouble-making" device again…;)
what's the greatest piece of advice you would like to pass on?
Read not just to find out about new facts, adventures, thoughts, quotes, etc but to think and comprehend the wisdom we could find in any book ;). Books could be a great way for educating, not just for entertainment.
where can we find you online?
http://www.myspace.com/ivan_allanbard, http://www.facebook.com/ivanstoikov.allanbard, http://www.shelfari.com/allanbard, http://www.allanbard.blogspot.com/, yahoo.messenger: wingofsard, skype: ambigat.son
what are you reading at the moment?
Catcher In The Rye, Orcs, Photoshop's manual, Goosebumps…
what are you listening to at the moment?
Duffy's Mercy, The Asteroids' Galaxy Tour's Golden Age, London Philharmonic Orchestra' Kashmir…
anything else we should know?
I cried when I wrote the most horrifying moments in my Tale Of The Rock Pieces though I knew very well what the end will be, I'll have to learn to dance like Michael Jackson to write really well my future Lake Mystery, for some of my books I prefer to make my own illustrations as I guess the worst covers and illustrations are made by professional artists… which usually have little in common with the story…;)