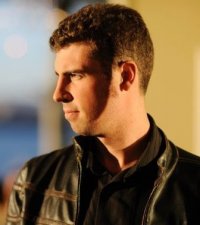 what is your name?
Brendan McGinley
how would you describe what you do?
I write free webcomics, as well as some print ones. I often draw, letter, color and edit them as well. I also write and draw comical-but-not-comic stuff for Cracked, and along with Chris Lawson, I put together the free Whitechapel sampler project "Grassroots". I also do screenplays when I have the time, and I'm kicking around a detective story.
As for how everyone else would describe what I do, it's "Oh, this is Brendan. He writes graphic novels." A lot of people outside of comics think "comics" is a pejorative term.
what are you currently working on?
I'm currently writing: "Heist," "Hannibal Goes to Rome," "Invisible, Inc.," "Citizen X," "She's Famous Now," and "Black Ambulances." I'm currently drawing "Dose" #3
what has had the greatest influence on your work?
Any satirist usually grabs me. I'm a big fan of Mark Twain's humanist approach, and there's been MAD in my house since Harvey Kurtzman was still alive. I think Seanbaby ought to be winning a lot of humor awards that go to his dry-mouthed inferiors. Like everybody else in comics, I went through my period of trying to be Alan Moore, though I think that's over now. Grant Morrison is probably my current comics hero, though. Metafiction is fun. Artwise, I try to stay influenced by Wally Wood, Winsor McCay and Adam Hughes.
what is the greatest misconception about you or your work?
That I'm unfocused. I write in shifts for artists who have other projects going, so we use a slower schedule and they always have something to draw. Although I suppose my interior misconception is that there's a market for my work.
what do you see as the main strengths and weaknesses of the medium you work in?
Well everything in comics is visual, so it has a greater immediacy than prose, but at the same time, you're bound by time and space as a single dimension. Comics are crystallized time, so you have to pick and choose carefully how you're going to give the illusion of instantaneous development. What you're showing isn't a single second (which is why a lot of fumetti comics fail to tell their story), nor is it usually a full minute. It's that polymorphous moment in which the point of your article occurs. You almost have to think of the frame as a hot frying pan and the contents of the panel as a frying egg. You can tinker with the size and shape of the contents a bit, but you're pretty much stuck to the material you put in there.
That boundary of comics can challenge you to innovate, but it also makes it difficult to do single-snap actions when you're working in a 775px wide field. I'm a big believer in the montage effect of comics, though, I'm sure I'm speaking for a narrow viewpoint of frames and narrative panels, when really, any juxtaposition of images and non-literal signifiers creates an effect for the reader.
how has technology impacted upon the work you do?
It's really only helped. I can hire better artists at a decent rate for both of us thanks to telecommunications, coordinate printing shipments from India without expensive phone calls, disseminate my work at no production costs on my website, promote instantaneously via Facebook and news sites like CBR. Right now a Cracked topic I wrote has racked up 230,000 views in a day thanks to Digg and Twitter. That's by far the greatest number of people who have ever read something I wrote, and the ten of whom who liked it are clicking through to my comics. So far nothing more than pointing out a places where Glenn Beck pretends to be crazy, I get $50 and a wider audience. I like this Internet thing.
I'm also saving a ton of time and money lettering the comics with free fonts (my own handwriting is terrible), inking, coloring and laying out the pages with software rather than real material. If I screw up a page, I simply erase the layer. Basically, technology has allowed me to leap over all the areas where my greatest shortcomings as an artist, editor and promoter are.
what's the greatest piece of advice you would like to pass on?
Be grateful when people like your work, but don't mistake either compliments or criticism as evidence you've made something either good or bad. What's first important is the information you put into the piece forms the premise of the concept as well as its fulfillment. And most of all, on those days when you can't work: remember the horror that even Shakespeare will fall off the cultural map one day. Just stop worrying about making something great, and go make something functional. If the gears of the story turn quietly and efficiently, you'll find the easiest part is giving it good color and character. But if you sit around waiting to feel creative, you'll never actually create.
where can we find you online?
Pretty much everything I do ends up on Bankshot Comics, which has the incongruent URL http://www.indeliblecomics.com
what are you reading at the moment?
In print: "All Aunt Hagar's Children" by Edward P. Jones, Jane Austen's "Emma" and "Green Arrow: Archer's Quest" by Brad Meltzer. On the web, too much, but comic stuff: Steven Grant's "Permanent Damage," Valerie D'Orazio's "Occasional Superheroine," This Modern World, and Warren Ellis' blog. Those are usually my regular stops.
what are you listening to at the moment?
Anything that reminds me of my girlfriend, who's finishing up an internship in another city. That's a lot of Weezer, Rainer Maria, Jealous Girlfriends and We Are Scientists. In perpetuity, I love the Bosstones, Catch-22, the Pogues, Rancid, all those good and hearty bands along the punk/ska axis.
anything else we should know?
I have a double-jointed thumb and I am most suspicious of the sociopolitical beliefs that I want to be true.